What is CapCAN's Pathway to Potential?
Adults are the largest single cohort of citizens, who, if supported in achieving workforce-relevant credentials, can advance Michigan's overall goal of attaining 60% of our population with degrees or credentials by 2025. (Source: Reaching for Opportunity- A New Policy Agenda, 2015) Region 7's demand for talent is growing. Nearly 70% of jobs in this region require a post-secondary degree or credential.
Unfortunately, 7% of Ingham County residents aged 16 to 24 are neither working nor enrolled in school, creating a "disconnected" population of young adults, according to the Robert Wood Johnson Foundation 2017 County Health Rankings. The disconnection rate is higher among young African-American, Hispanic, and Native American-adults. Offering alternative learning models, community-based support, and employment experiences will prepare these young people to advance their education and career potential.
CapCAN's Pathway to Potential Initiative (PPI) will provide disconnected young people with a caring adult adviser, a wide range of services, an opportunity to connect with other youth, and bridge systems to redirect them back to educational and employment opportunities.
CapCAN has historically focused college advising on high school students. Full-time College Advisers support students to navigate the post-secondary process to pursue a 2 or 4-year degree, industry-recognized credential or certificate, or the military. We have found in our work that most young people do not have a clear idea of the careers they might be interested in or the types of jobs available in the community for their programs of study.
The Pathway to Potential Initiative (PPI) builds on the lessons learned in the college advising structure for high school students to establish a pilot program to provide full-time integrated college and career advising. Each young adult will meet with an adviser to develop an "Educational and Work Plan." Young adults in PPI will link with their peers through College and Career Workshops) covering college and career topics ranging from soft skills, resume building, interviewing skills, application, and financial aid.
If you are interested in being a collaborative partner in PPI or know of a youth who would like to participate, please contact Michele Strasz at [email protected].
Refer A Young Adult to PPI Coaching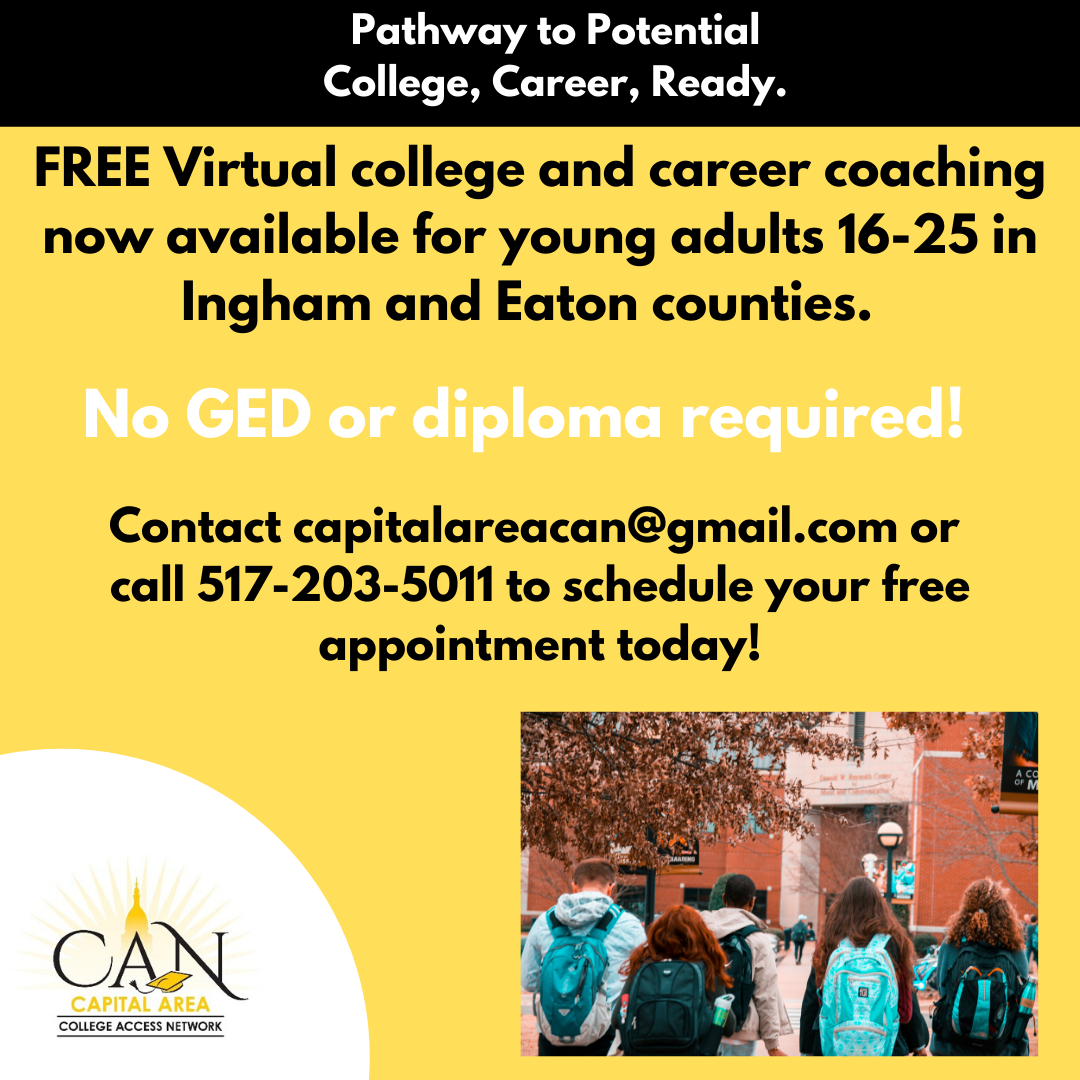 What is the State of Michigan's Reconnect Program?
Michigan Reconnect (Reconnect) is a last-dollar scholarship program that pays for you to attend your in-district community college tuition-free or offers a large tuition discount if you attend an out-of-district community college.
You can use the scholarship to complete an associate degree or a Pell-eligible skill certificate program.
To be eligible, you must:
Be at least 25 years old when you apply
Have lived in Michigan for a year or more
Have a high school diploma or equivalent
Have not yet completed a college degree (associate or bachelor's)
If you do not have a high school diploma or equivalent, visit Michigan.gov/LearnMoreEarnMore to get started.
Michigan Reconnect provides free in-district tuition, mandatory fees, and contact hours for accepted and eligible applicants to pursue a Pell-eligible associate degree or skill certificate at any of Michigan's public community colleges. Have questions before you apply? Visit Reconnect's Frequently Asked Questions page to learn more about the program and what it offers.
To participate in the Reconnect scholarship, you must complete four steps:
Apply online for Michigan Reconnect. The application takes less than five minutes to complete and can be done on a mobile phone. If you are having difficulties on your mobile device, it is recommended to use a different browser or computer.
Apply to a Michigan public community college. All public community colleges, including tribal colleges, in Michigan qualify. If you're already enrolled at a public community college this step is completed.  If you're not, remember your tuition is free at an in-district community college, but that Reconnect only pays part of the tuition if you attend an out-of-district community college. See What costs does Reconnect cover?
Submit your FAFSA. This is free financial aid provided by the federal government.
Enroll in an eligible program and start classes. You must be in school at least half time and stay enrolled continuously through graduation.
Pathway to Potential Podcast
CapCAN provides personal and customized support to adults to help them navigate the post-secondary process and link them to a wide range of community resources through our partnership with United Way to ensure they have the tools they need to be successful. 
Listen HERE to our Pathway to Potential Podcast to discover how you can access these resources.