The Capital Area College Access Network (CapCAN) is a community collaborative focused on increasing post-secondary education as an achievable reality for all residents by fostering high educational aspirations through the alignment of our institutions and resources. Our geographic area includes Ingham and Eaton counties. We aim to increase college and post-secondary readiness, participation, and completion. Our network includes representatives from education, higher education, business, non-profit, philanthropy, and government stakeholders. CapCAN targets our support and services to low-income communities of color and first-generation students. Please help us create a college-going culture!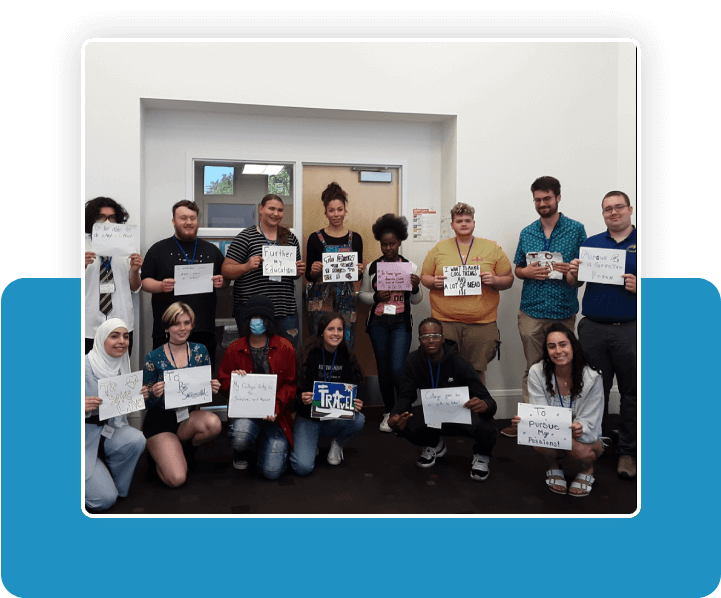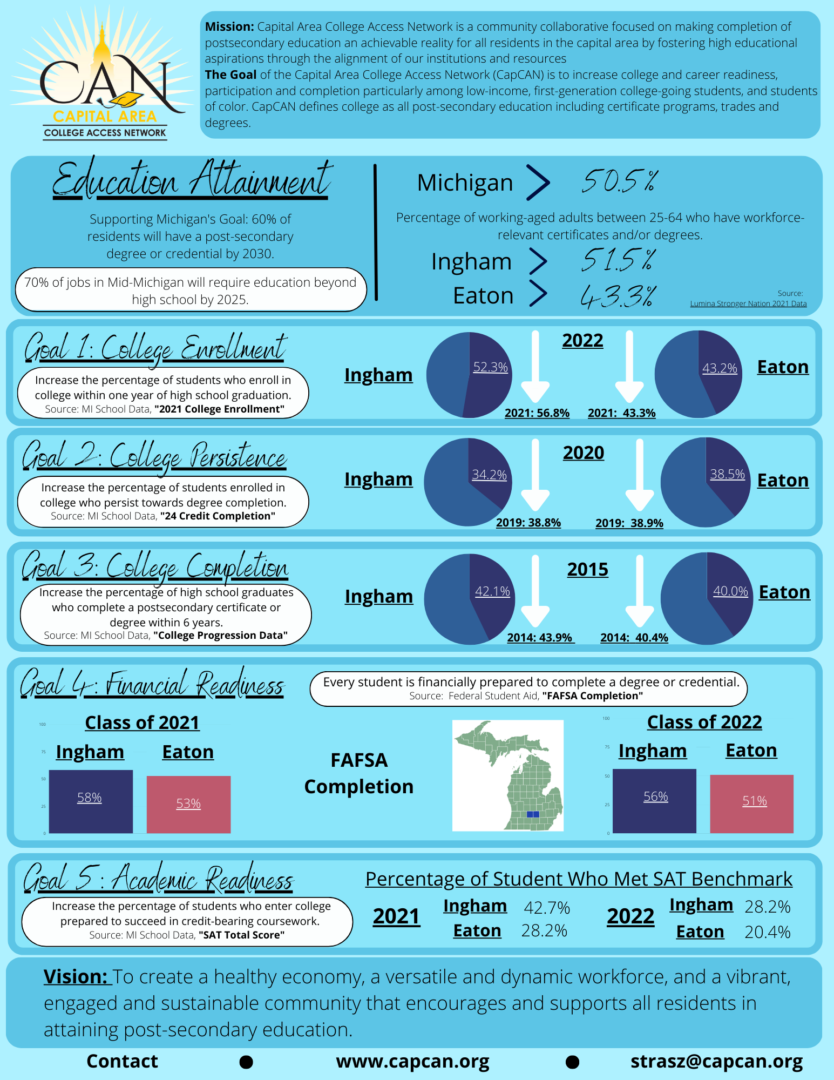 At CapCAN, our mission is to make sure that the completion of a postsecondary education is achievable for everyone, especially among low-income, first-generation college students and students of color. To accomplish this mission, we focus on five metrics: increasing college enrollment, college persistence, college completion, financial readiness and academic readiness.
Click HERE to view our Community Dashboard, which details the latest impacts we've made.
Mission:
The Capital Area College Access Network (CapCAN) is a community collaborative focused on making the completion of post-secondary education an achievable reality for all residents of the capital area. Our community fosters high educational aspirations and will align our institutions and resources to advance that vision. Our mission is to increase college and career readiness, participation, and completion.
Our Values:
College is postsecondary education: CapCAN uses the term "college" to refer to the attainment of valuable post-secondary credentials beyond high school, including professional/technical certificates and academic degrees.
College is necessary: Post-secondary education is a prerequisite to success in a knowledge-based economy.
College is for everyone: CapCAN is committed to closing the gaps in post-secondary educational attainment among low-income, students of color, and first-generation college students.
College is a public good: Post-secondary educational opportunity and attainment are critical to a just and equitable society, a strong economy, and healthy communities.
College is a cultural norm. A college-going mindset is fostered among and across the community.
How will we accomplish our Mission, Vision and Goals?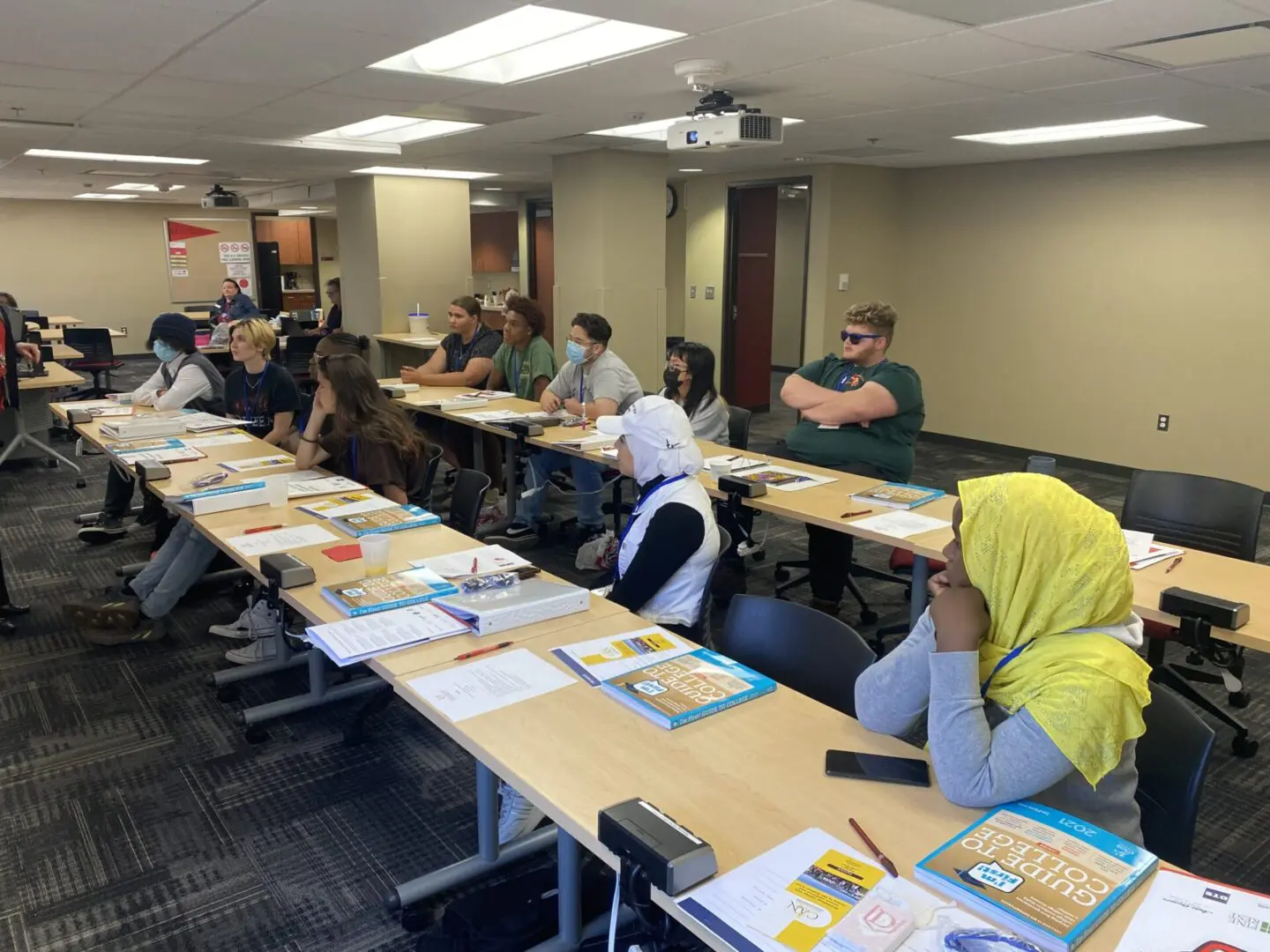 The Lansing College Access Network (LCAN) was founded in 2009 to support the Lansing School District as it grew its Lansing Hope and Promise Scholarship programs providing college access services to students. As the Michigan College Access Network (MCAN) simultaneously developed, the LCAN received a challenge grant from the Council of Michigan Foundations to expand its capacity and to use the collective impact framework to review local college access data and align priorities and activities across organizations and sectors. The Capital Region Community Foundation was the first fiduciary; a consultant provided leadership and staff support. College Advisers were assigned to serve at Lansing Sexton and Eastern High Schools through the University of Michigan College Advising Corps.
Over time the LCAN board determined it was time to scale across Ingham County. In 2013, the LCAN was renamed CapCAN. In 2014, CapCAN shifted to the Capital Area United Way as its fiduciary, and a full-time Executive Director was hired. College Advisers from Michigan State University College Advising Corps were added to serve at Waverly, Webberville, and Holt High Schools. CapCAN raised funds in the community to add college advisers at Stockbridge, the Wilson Talent Center, and Lansing's Everett High School and alternative high schools.
In 2017, CapCAN began integrating with its sister organization, the Eaton College Access Network. On May 9, 2018, the two leadership teams voted to merge into one entity, maintaining the name Capital Area College Access Network. The CapCAN board of directors adopted new operating guidelines, elected officers, and added five new Eaton County members to serve on the diverse sector board. Three additional high schools: Eaton Rapids, Maple Valley, and Relevant Academy, will join the network's college advising team. CapCAN created the Pathway to Potential Initiative in 2018 to provide college and career coaching and support services to young adults up to age 24 who have been disconnected from work or post-secondary education.
In 2018, CapCAN expanded college advising capacity into Eaton County schools and hired a full-time school liaison and program manager. In 2022, CapCAN rebranded all of its communications and outreach as the #LaunchPAD to reflect a new vision of inspiration, empowerment and motivation to create a college-going culture. CapCAN hired a new college access and engagement associate to focus on educational equity across the region.
Our Board and Fiscal Agent
The United Way of South Central Michigan serves as the fiduciary entity for CapCAN. The CapCAN Executive Leadership Board comprises representatives from higher education, K-12, business, economic development organizations, funders, youth service organizations, students, and their families. The Ingham Intermediate School District and Eaton Regional Educational Service Agency provide ongoing college and career support throughout the region for K-12 students.
Capital Area College Access Network Board of Directors 2022-23
William Barnes
Asst. Superintendent, Grand Ledge Public Schools
Donovan Brittain
Parent, Pharmaceutical Representative
Terence Brown
Assoc. Director, Admissions, Michigan State University
Erika Brown-Binion
Executive Director, Refugee Development Center
Bill DeFrance
Superintendent, Eaton Rapids Community Schools
Scott Duimstra
Executive Director, Capital Area District Library
DeLisa Fountain
Director of Neighborhoods, Art and Citizen Engagement, City of Lansing
Toni Glasscoe
Associate VP- External Affairs, Development, & K-12 Operations, Lansing Community College
Cindy Hales
Vice President of Community Investment, Capital Region Commmunity Foundation
Cassandra Hansel
Regional Director of Business and Community Engagement, Central Michigan University
David Hornak
Superintendent, Holt Community Schools
Amy Hoyes
Executive Director, Grand Ledge Chamber of Commerce
James Jackson Sr.
Transportation Diversity Recruitment Strategy Program Coordinator, Michigan Department of Transportation
Michele Strasz
Executive Director
(517) 203-5011
[email protected]
Michele Strasz has been the executive director of the Capital Area College Access Network since 2014, providing strategic leadership to the community collaborative dedicated to improving college attainment in the region. Ms. Strasz is a professional child advocate and non-profit administrator with 30 years of experience in children's public policy with expertise in child welfare, early childhood education, college access, and maternal and child health.
She is recognized statewide for her expertise in community collaboration, grassroots mobilization, and youth and parent advocacy. Ms. Strasz received her master's degree in public administration from Western Michigan University and a bachelor's degree in political philosophy from Michigan State University, James Madison College.
Ashley Justice
Program Manager & School Liaison
[email protected]
Ashley Justice is the Program Manager & School Liaison for the Capital Area College Access Network. Ashley works with schools, college advisers, and other community partners to create more opportunities for Ingham and Eaton County students to access college. Before joining CapCAN, Ashley received a Master of Arts in Higher Education Administration from George Washington University and a Bachelor of Arts in Special Education for Learning Disabilities.
Jack Falinski
CapCAN's 2022-23 AmeriCorps VISTA
[email protected]
Jack is from Howell, Michigan, and studied public policy and journalism at Michigan State University, obtaining his Bachelor's Degree in 2022. Jack joined CapCAN to promote the culture of preparedness that post-secondary education provides. He first learned about AmeriCorps and CapCAN through his senior seminar at MSU, which focused on community development in Lansing. After learning about capacity-building techniques from his professor, Dr. Louise Jezierski, and institutions like the Allen Neighborhood Center and Capital Area District Library, Jack knew Lansing was an area he wanted to continue to learn in and support
Jonathan Rosewood
CanCAN's College Access and Engagement Associate
[email protected]
Jonathan is a native of Detroit, Michigan. He's a high school graduate of the class of 2006 from Cass Technical High School, and a college graduate of the class of 2012 from Michigan State University. Jonathan is a first-generation college student that gives thanks to all the people who supported him along the way and helped him to complete his goals of completing college.
Over the past ten years, Jonathan has served as a College Adviser, a Scholar Director for youth 6th-12th grade, a Diversity Project Coordinator at Lansing Community College and a Program Director for the Turning Point of Lansing (a male mentoring program for boys in 6th-12th grade). He's now CAPCAN's College Access and Engagement Associate. Jonathan's favorite quote comes from his dad: "When life gives you lemons, make lemonade." He uses that quote every day to help others realize no matter what may come their way they can make anything possible."